A beautiful place near Hurghada. It's around 18 kilometers away from the Hurghada Airport. Everybody who is in love with Hurghada knows that the beaches there are not the best but the best solution for this is Sahl Hasheesh! It is more than different from Hurghada much cleaner and good build streets. When you come in you pass by a security control and you have to say where you want to go so if you want to go to the beach you need to say this. The restaurants are also quite nice there. There are also hotels, but most of them are not all inclusive and more expensive.
Il Gusto
The place where my family and I go over there is Il Gusto it is a beach and a restaurant. You pay from 100 to 150 Egyptian pounds entrance including a towel. The staff also prepare your sun bed and the beach umbrella. The service there is amazing you get something for the price you pay. Food and drinks are in the normal price class. For people that are used to prices in Hurghada will find the prices in Saal Hasheesh expensive but for European people the prices are cheap. The Food there is good my boyfriend and I are in love with the chicken Quesadilla as an appetizer. Last time when we went there we also took Pizza and it was the best pizza we ever ate in Egypt. The penne Arrabiata were really spicy but delicious, so my tip better says to make them too spicy! I had them medium and my mother and I died. Enough from the food now to the drinks. The Cocktails with alcohol are not so good at least the ones we tasted. They have fresh juices and other refreshing cocktails without alcohol that are good. The most important is that they have ID watermelon because this is the most delicious alcopop I know. At the beach are also sunbeds in the water that are really nice and relaxing! My mother spent the most of the time on this sun bed!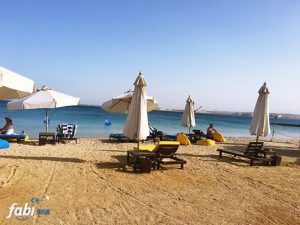 So if you search for something more exclusive in Hurghada but still not super expensive then Sahl Hasheesh is the perfect place for this. The Beach is amazing and there are many places to make a beautiful picture there. Place number one is under the bridge you walk there from Il Gusto around 10 minutes you can walk to the beach. The other place is the sign of Sahl Hasheesh and it is beautiful especially when the sun goes down. There is like a fountain but it's not all the time open, but even when it is closed it is beautiful. I love this place and I hope you will love it too!